Last Updated 10/25/17
2017 Vermont Principals' Association State Cross Country Championships
Saturday - October 28, 2017
Thetford Academy - Thetford VT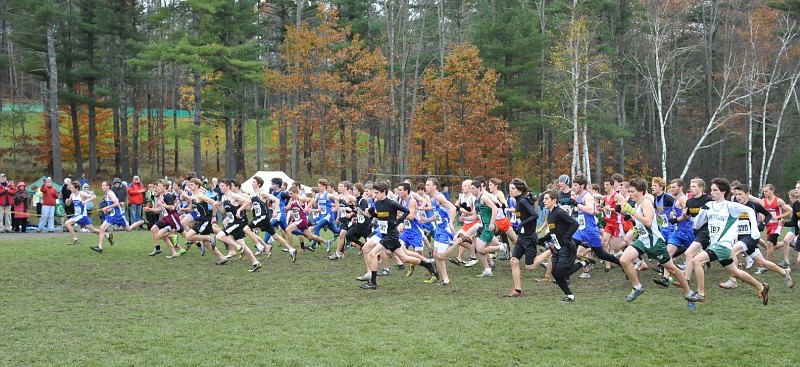 Here is information for the 2017 VPA State Cross Country Championships. This year's event will be held on Saturday - October 28, 2017 at Thertford Academy.
Please be sure to read ALL of these pages carefully and thoroughly.
All cross-country coaches are expected to be familiar with the contents of these pages. Pay particular attention to the rules about Race Formats, Entries, Fees, and Uniforms, because the Committee has many questions each year about these areas of the rules.

Note that the order of events changes from year to year and the Challenge races are run at the end of the meet. This year the day will start with the Division III Boys Championship at 10:30 AM. Please plan accordingly.

This year coaches will need to submit their uniform waiver requests directly via email to Meet Director David McGinn Be sure to review the uniform regulations carefully before you register your athletes.

All entries must be done online via Direct Athletics. Entries must be completed by 4:00 PM on Monday - October 16, 2017. After that deadline, entries will be closed. For additional details click on the "Meet & Entry Info" link above.

Fees: $ 8.00 per runner in Division races $ 4.00 per runner in Challenge races
Respect For Facilities At Championship Site
Coaches, athletic directors, and administrators are expected to impress on all members of their school communities--including competing athletes, non-competing athletes who accompany the competitors, students (whether they accompany the competitors or not) parents, and other spectators--that the facilities at a host site for a Vermont championship must be respected. All members of each school's community should be given this information before they arrive at the championship site.

Hikers are often admonished - Take nothing but pictures; leave nothing but footprints. That admonition certainly applies to a facility such as the trail at Thetford Academy, which is one of the most picturesque cross-country venues in New England. Thetford Academy has asked that all who come to enjoy its facilities take away nothing but pictures--and pleasant memories of this beautiful trail in the woods. After the competition, nothing should be left but the footprints of earnest athletes who strived to do their best and the footprints of their supporters who came to cheer them on.

All should remember that lack of respect for championship facilities, whether by a school's competitors, or by non-competing supporters from that school, can result in sanctions under the Vermont Principals Association's rules. Sanctions could include disqualification of students competing on behalf of the member school, other sanctions against the member school, or sanctions against the individuals responsible.

We ask that you please do not bring dogs to the event!
Prohibition of Raffles
The Vermont Principals' Association prohibits raffles at the Vermont Cross-Country Championship under the provisions of Article I, Section 4, A of its rules.

COPYRIGHT © 2017 Lancer Timing Services. ALL RIGHTS RESERVED